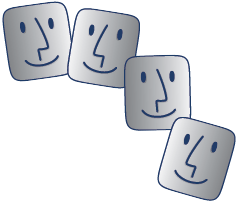 MacDay LA Classes
The majority of people did not want to miss our presentations to take classes so we will be offering classes separately instead of on this day.
~~ Agenda Page • Party Page ~~
Here are a couple of classes you can expect to see from us on a day full of classes in the near future.
Creating a Brochure or Flyer in Adobe InDesign
We'll start with a blank page and create a flyer together covering color, typography, text flow, graphics. An open discussion will take place covering the various options.
You do not need any previous experience using InDesign.
This class is particularly great for:
Entertainers, writres, businesses, students, business or social organizations, job-seekers.
Instructor:
Jonathan Levit, Levity Training.
You can read a bit about Jonathan on our experts page or visit Jonathan's own web site.
(You may also recognize him as the host of VH1's CelebraCadabra and other programs. Mac people are multi-talented)
Getting to Know FileMaker Pro
FileMaker Pro is a full-powered database-building program that doesn't require you to learn programming. (If you've ever tried to use Access, you'll really appreciate FMP!)What can FileMaker Pro do for you? How do you get started actually building your custom database?
In this class, Anton will start with File -> New and take you through the actual process of creating your own database from scratch.
Among the things you'll learn:
How to create fields to collect your data; not just how to create a field but how to plan and create the right fields.
About data-entry choices, why they're important, and how to think them through.
About some fields you should create from the start that will help you in the long-run.
How to create a basic script to automate your searches, sorting, data entry, and such.
How creating and using various layouts can help you work with your information.
More.
A FileMaker Pro database is not limited to a single user. Multiple people can access the same database. It even works over the web. There is also an email function. This is also an opportunity to get an idea of some of this power.
This class is particularly great for:
Anyone who has a lot of information to track.
Instructor:
Anton Anderson, ACN, Certified FileMaker Consultant
You can read a bit about Anton on our experts page or visit Anton's own web site.

This page was last updated 5/29/08.